HIGH QUALITY DISC HARROW Agricultural Machinery BEARINGS
ZXZ can provide a full range of agricultural machinery bearings, mainly including the following types:
P bearings, including the radial insert ball bearings of the metric and the inch series.
Roundel bearing of sowing machine , Cylindrical bore, Square bore and Hex bore series. Each series includes a cylindrical OD or spherical OD.
MATERIALS
ZXZ agricultural machinery bearings are made of high quality high carbon chromium bearing steel .according to GB18254-2016 standard, providing guarantee for long life.
CAGES
ZXZ agricultural machinery bearing are fitted with an injection moulded snap-type cage of glass fibre reinforced polyamide 66. These cages exhibit excellent performance characteristics in a variety of applications where operating temperatures do not exceed
The lubricants generally used for P-bearings do not have any detrimental effect on cage properties.
SEAL
ZXZ's agricultural mechanical bearings have three forms of seal structure:
1.The standard integral seal used in ZXZ –P and CS bearing units provides good protection against moisture and contaminants and also provides reliable retention of the lubricant .
2.For more contaminated conditions, P-bearing units fitted with plain steel flingers outside the integral seal should be used. The flingers have an interference fit on the inner ring and considerably enhance the sealing effect without increasing friction.
3.Where operating conditions are extremely contaminated and long service life is required, P-bearing units Tri-Ply Seal Series with the highly efficient multiple seal are recommended.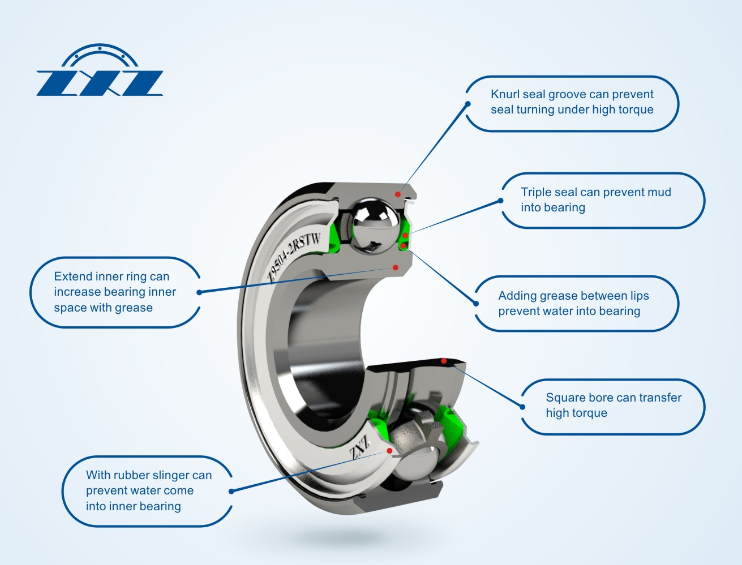 Advantage

1)Low noise precision bearings
2)Strict quality control system with perfect QC facilities
3)Prompt delivery and good service



Applications

1)Agriculture,

2)light textile,

3)mining,

4)food &beverage,

5)pharmaceutical,

6)chemical processing,

7)printing,

8)dyeing,airport,

9)air-conditioning,

10)various kinds of conveying and rolling devices.